A Job Well Done
Serve On's mission to the Philippines has drawn to a close and our team will fly home today after a job well done.
Together with our friends from Team Rubicon and Dentaid, our volunteers leave behind them a grateful community better prepared for whatever nature might throw at them in future and children in better health and with their schooling and life chances improved.
The team deployed two weeks ago to Manduae City, a suburb of Cebu island's capital, Cebu City, in a collaborative venture to build local resilience and improve education facilities for some of the area's poorest communities.
Straight away our volunteers got to work training students from the local Emergency Response Unit Foundation, teaching them some of our Urban Search and Rescue techniques, such as casualty extraction, coaching them on fire rescue and handling road traffic accident casualties, and instructing them on some of the technical equipment we use.
Team leader Craig Elsdon and fellow International Response Team (IRT) member Nick Borritt, who was able to deploy thanks to Dorset and Wiltshire Fire and Rescue, plus Dog Team member James Lewis, were among the Serve On guys who imparted their valuable knowledge to the local emergency responders.
Meanwhile, two of our Rescue Rookies, Jazz Williams and Ethan Elsdon, helped coach some of the children in the suburb's schools on the facts behind earthquakes and how best to respond to them. They also assisted all three charities' volunteers in other work.
The joint mission by the charities was centred around the Umapad Elementary School in Manduae which provides education for a group known as 'the scavenger children' whose homes are on the local rubbish dump and who make a living by recycling other people's waste.
Using the local school as a base, Dentaid experts brought smiles to hundreds of children, training them in oral hygiene and performing scores of necessary extractions.
Team Rubicon UK got to work rebuilding desperately-needed school classrooms for the under-privileged children in the area for whom the threat of earthquakes is a daily fear.
The 7,000 islands that make up the Philippines lie on a major fault line which means they are subject to some of the world's worst natural disasters such as flooding, volcanoes and earthquakes, and Cebu island, south of Manila, has regularly suffered the consequences.
Local TV report on our team's work (starts at 25 minutes into programme.)
Couple that with its turbulent economic and political history, and one fifth of the local population lives below the poverty line.
Of the 1,400 children who attend Umapad school, around 900 live on the local rubbish dump so their classrooms provide a precious stable base for them, but some of the rooms house 60 students, making them cramped and hot.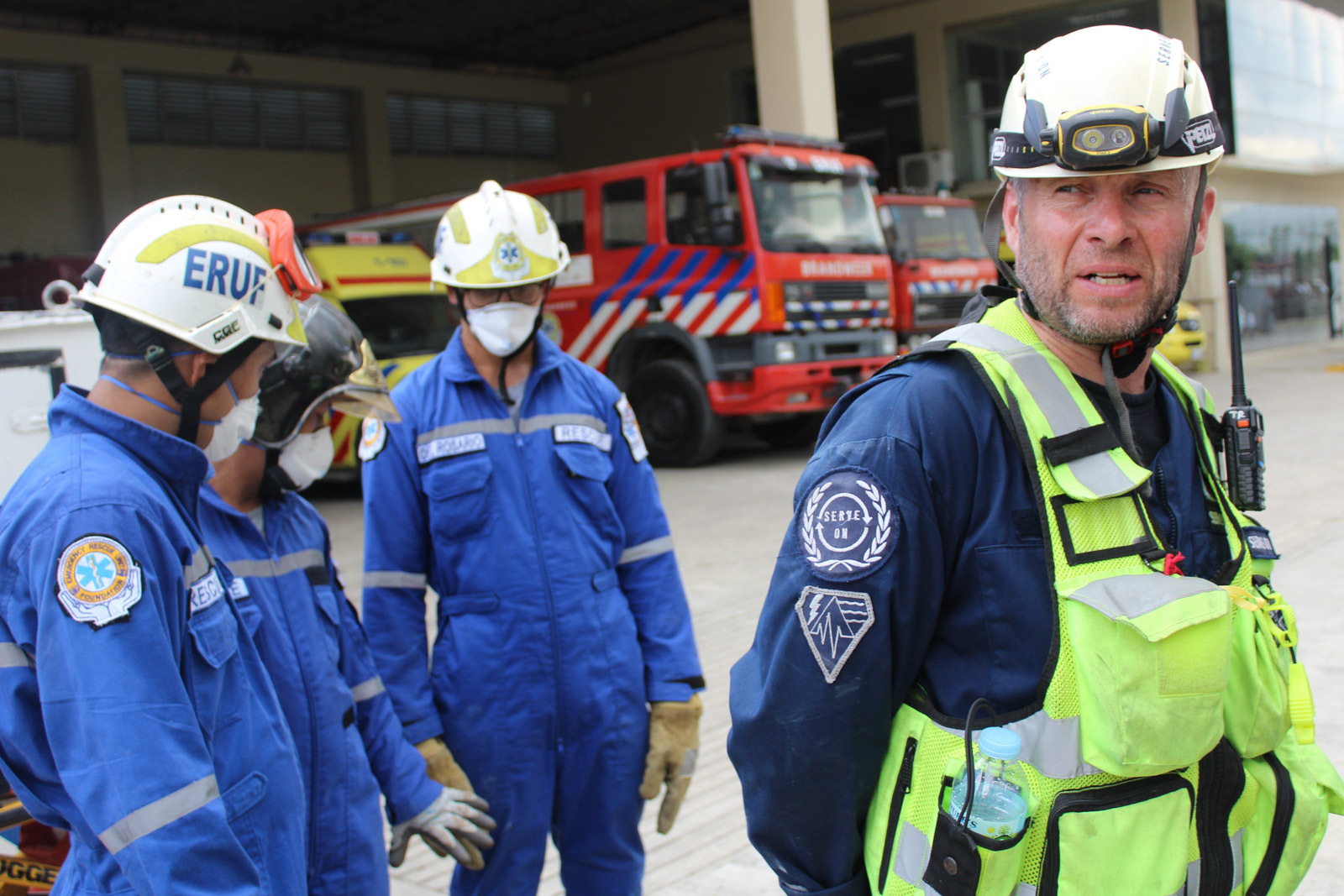 Team Rubicon worked with local suppliers to knock down crumbling classrooms and rebuild them to make them more spacious; putting in electrics, constructing blackboards and sourcing local reroofing materials.
Back in the existing classrooms, Serve On Rescue Rookie Jazz Williams, told Spire FM radio the local people, and especially the children, were keen to absorb any information Serve On could offer.
She said: "It's awesome here. Everybody is really welcoming. It's just, all round, quite a nice experience so far.
"We've been to about six schools and we've seen between 400 and 600 students and we've been teaching them about earthquakes and how to prepare for them, before, after and during.
"The reaction has been really positive and all of the kids have got a lot more confidence around us as the sessions have gone on and they are getting a lot out of it, coming away with some really good information."
Jazz, 16, from Salisbury, added: "It's great interacting with the kids, really, because they get along so well and they're so grateful for everything; for you being there and chatting to them; and it's just really nice to see how positive and just how lovely they all are."
When Jazz and Ethan were not helping to teach the local children, they also got involved in the emergency response training, often in the role of casualties to be extracted from cars or buildings.
The teams will arrive back in the UK on Saturday, having built important bridges with a community which has found it doesn't need to wait for disaster to strike to get help from Serve On, or from Team Rubicon and Dentaid
Rob Witton, from Dentaid said before the volunteers left Cebu: "I think, for me, one of the benefits of the mission has been working in partnership with the other charities because we all complement each other.
"We have a great team spirit and, actually, there is a lot of evidence out there that suggests that when you combine different interventions you actually create a greater impact, so the sum is greater than the individual parts and I think that our case is a really great example of that."
Average number of kids in Manduae school classroom= 51
Total number taught earthquake lessons= 2,354
Total number of of schools visited = 13
Emergency responder students taught = 38. Search and rescue courses delivered = 3
Teeth extracted = 422
Dental inspections = 354