Spring Update
The Spring update has gone out to supporters of Serve On with some information for those who don't know about the charity and an update on our activities.
You can read it here:
WHO WE ARE:
Serve On is a non-profit humanitarian response charity that saves lives when natural disasters strike, but we don't wait for catastrophes to happen before we rescue people.
Our work constantly transforms lives, including those of our members, as we build resilience in people and in communities, at home and across the world.
We are relatively small – with fewer than 200 members – but we punch well above our weight in the aid we can offer because of the remarkable pool of talent among our wonderful volunteers and their extreme dedication – last year they donated an incredible 16,535 hours of their time!
With your support, we can continue to excel and reach even more communities who need us in times of crisis.
We have remarkable stories to tell from our first few years and, with your help, we'll have more good news to spread.
OUR PEOPLE:
We are what our members make us and they are from all backgrounds and all walks of life, ranging from ex-military to serving and former emergency services personnel to office workers and tradesmen and women.
Membership is open to all but what unites our volunteers is a desire to save and to transform lives, to lead and to serve, to develop themselves while making a difference to others. They are ordinary people wanting to belong to something extraordinary.
*Pete Dunning typifies the spirit of our volunteers. The ex-Royal Marine lost both legs in an IED blast in Afghanistan and the initial battle to save him was captured by a TV documentary team, but his real fight began once he left hospital and struggled for a purpose to his irrevocably-changed life. He found it at Serve On where he not only passed the tough training to join our International Response Team but is now an ambassador and a driving force for the charity.
*Laura Harding ran two businesses and still found time to volunteer with her local lifeboat crew but damage to her spine during childbirth eight years ago has left her in constant pain and unable to carry on her work or her life-saving duties. Her discomfort, however, has never dimmed her desire to serve and now she runs the administration for our charity.
WHAT WE DO:
International Response Team:
The highly-trained search and rescue volunteers in our International Response Team (IRT) are ready 24 hours a day to drop everything and head anywhere in the world to offer their expertise and life-saving skills. Their combined experience covers 20 years of disasters and 22 international deployments, including India in 2001, Pakistan in 2005, Haiti in 2010 and the Caribbean in 2017.
Our small team can deploy from our Salisbury HQ within hours and be on the ground carrying out rescue work immediately on landing, while bigger teams are still assembling their resources.
*In September 2017, the devastating Hurricane Irma ripped through the Caribbean, tearing apart homes and livelihoods. Within 24 hours, Serve On's volunteers were on their way to the Islands of Tortola and Virgin Gorda co-ordinating the relief effort by making areas safe and clearing debris, providing thousands of litres of safe drinking water and setting up vital communications. A small team of Serve On volunteers will be returning to install an Island-wide communications system to help with daily communications and put islanders in a stronger position to co-ordinate relief/recovery in the wake of a future disaster.
Serve On relies on voluntary donations to make these deployments happen. Please help us to help others in desperate need of support.
Community Resilience Teams:
Serve On is developing a network of formally-trained volunteer Community Resilience Teams (CRT) to support the emergency services and local authorities in their response to major incidents. Currently our CRT is based in Salisbury (with support from a team of volunteers from Portsmouth too)but with more funding we would like to expand to other parts of the country to enable us to replicate our successful volunteering model across the UK.
Our teams engage, recruit and empower all sorts of people, whether skilled or unskilled, employed or unemployed, young or older, in order to help other people around them. With expert training, our volunteers can then respond to a range of emergencies, such as flooding, power cuts or missing persons searches and in so doing transform the communities around them and their own lives.
*We are always ready to respond and our volunteers were on hand to help grateful locals with the effects of flooding in Tadcaster and Keswick in December 2015 and in Coverack, Cornwall, in July last year. More recently and closer to 'home' our volunteers were praised for their life saving efforts during the snow chaos brought by Storm Emma. Over three days and three nights our volunteers worked relentlessly clearing roads, freeing trapped motorists and ferrying district and community nurses to remote patients in need of vital medication. They even helped a pregnant woman in labour to urgently make her way to Salisbury hospital, by pushing her struggling car through the snow!
Dog Team:
Our membership is not exclusive to those on two legs. Our highly-trained four-legged members not only steal the show whenever we come into contact with the public, but the dogs' unrivalled search and rescue abilities are an invaluable addition to our high-tech equipment when emergencies occur.
They work to the standards of the International Rescue Dog Organisation, train with a variety of other teams, including the British International Rescue Dog, the local police and fire rescue services, and undergo up to three years of training before assessment as an operational asset for Serve On.
*Our dogs have been deployed to Turkey, Colombia and Iran to help locate live casualties in the aftermath of earthquakes. Our current complement of seven dogs train extensively with their dedicated handlers and are regularly blood tested to make sure they are fit to travel abroad at a moment's notice. While they wait for the call, Barney, Bryn, Luca, Storm, Molly, Mick and Ziggy are always available to join police missing persons searches closer to home, if required.
Resilience Building:
In any disaster, it is often the survivors who are the first responders. It takes time to organise international aid, especially if the country's transport infrastructure is disrupted, and even our small, mobile team cannot be there instantly after an earthquake or a devastating flood.
That's why we don't wait for disaster to strike. Our experts travel to disaster-prone countries to provide local populations with resilience and rescue training and disaster risk reduction advice to UK-accredited and International Search and Rescue Advisory Group (INSARAG) standards.
*We have delivered resilience training in India, Pakistan, Peru, Oman, Turkey, Bangladesh and Haiti and at most recently to Cebu, in the Philippines, imparting their expertise to local emergency responders in a joint mission to the country with Team Rubicon and Dentaid.
Mentoring:
It's not just natural disasters that can wreck lives and we utilise the skills and experience of our volunteers to help those less advantaged, whether they be long-term unemployed, excluded from mainstream education, ex-offenders or just youngsters lacking in confidence.
Serve On founder Simon Edwards has demonstrated how, with training, careers advice, good role models and aspirations, anybody can thrive.
*We work with The Prince's Trust, Dorset and Wiltshire Fire and Rescue Service's Salamander project and Wiltshire College offering young people a taste of what we do and a way to enhance their lives. Our partners will tell you of the transformation not only in youngsters who were in danger of falling through the cracks but also in those who simply needed a boost to their confidence to fulfil their potential. Young members of our Rescue Rookies programme recently deployed to the Philippines helping to mentor some of the 'scavenger children' of Manduae City.
Team Building:
Everything we do is underpinned by our values and our ethos; our desire to serve for the greater good and our knowledge that, by so doing, we will make ourselves better. It is a powerful message and big companies, academic organisations and major sporting groups have been keen for some of our can-do spirit to rub off during exercises with our volunteers and expert trainers.
*We were most recently privileged to put the England Women's Rugby Squad through one of our team-building weekends as part of their recent World Cup training camp. Having discovered how much we shared in terms of values, commitment, dedication and team-work, we became avid England Women's Rugby fans, all the way to the World Cup final, while a number of the Red Roses are now keen to join the Serve On team!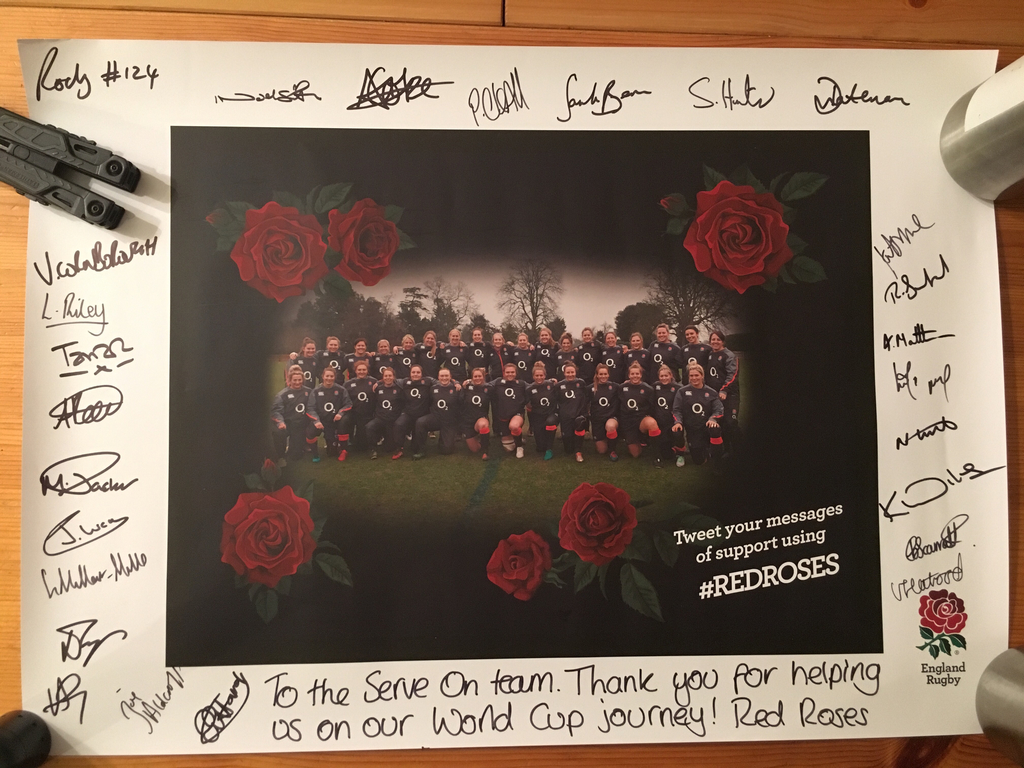 How YOU Can Help:
Our volunteers provide the hard work and countless hours of their time for free, but humanitarian response equipment costs money and that's where you can help: £30 buys a pair of boots for a rescue worker; £70 buys a life vest for one of our boat crew members; £100 buys a solar pack to power our laptops during a deployment; and £200 buys a GPS unit to keep us on the move in a disaster zone.
A donation of £300 buys a dry suit for our flood rescue work; £500 buys all the medical supplies Serve On needs for an earthquake deployment; £1,000 buys a generator to keep us self-sufficient when deployed to a natural disaster; and £1,500 pays for the care of a search and rescue dog for one year.
But we want to be able to do more for more people. To that end, £150,000 could fully equip a new Community Resilience Team or another International Response Team.
Thank-you for taking the time to read Serve On's appeal. ALL donations are gratefully received and really do make a difference to our work and the lives of real people.
Please follow the link here to make a donation https://cafdonate.cafonline.org/4880#/DonationDetails